Version 1.2

SAVE TEXT FILE USING FLASH PROJECTOR

One of the new features in Flash was that it allowed you to load variables from outside files. It did not take long until text files were being used to quickly update Flash files. Using ASP,
Flash designers
have created guest books, Flash databases and much more. This involved the information being read from the ASP files and then written back to them. However, this could only be accomplished online...until now!

JSave, one of FlashJester's JTools, allows you to SAVE text entered into Flash to a text file on the hard drive. It saves user options, allows you to enter details in Flash offline and allows you to insert your name and it will remember for future launches of the Flash file.
v.1.2
Added MYDOC%, MYSOL& and MYAPPDATA% commands
| | |
| --- | --- |
| | My Documents Directory - MYDOC% |
| | Application Data Folder - APPDATA% |
| | Shared Object Directory - MYSOL% |
JSave support Flash 3/4/5/MX/MX 2004/8 & Windows 95/98/ME/NT/2000/XP
Change the way it looks
| | |
| --- | --- |
| | Save text entered into a Flash file to a text file |
| | Use JSave to save and retrieve the date and the time |
| | Only need one copy of JTool for all your saving needs in the same Flash file |
| | File size is just 20K! |
| | Quick and easy to set up |
Included is the JSave example file to show you all the great features. Also included is the FLA file for the example file so you will be able to see how each link works.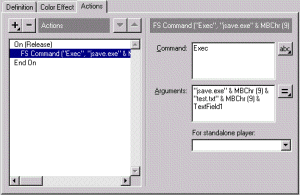 JSave is simple to set up and soon you'll be saving to text files quickly and without difficulty



Load and Reload!

Using a combination of JSave's saving capabilities and Flash's loading variables from text files, you can create cool effects and neat Flash applications. How about a Flash Notepad? All possible with the power of FlashJester!



One copy

You will need only one copy of JSave to create several links from a Flash file as JSave, as with all the JTools, uses parameters. To set up these command line parameters, all you will need is a text editor. Once you register, you will receive a FREE copy of JHelpor to help you set up the command line quickly and simply. For more information about JHelpor, click here.




Using JSave with Flash MX



In order for JSave to work with Flash MX you will have to use it with Jugglor, this is because of the security features added to Flash MX. Please take a look at the FAQ and download the example file to see it working.