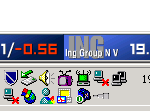 MING Ticker - Matthew Sutton

This ticker takes advantage of the Ticker facility in Jugglor v2. It allows the ticker to stick and stretch to the top and bottom of the screen. Try it. MING Ticker is a two-part Flash module that uses an XML feed to build and update itself. Thanks to Matthew for allowing us to use his techniques.

Tools used - Jugglor v2 Pro

Go to web page | Download




Yohagan Interactive Solutions
Interactive Markeing: We produce web sites, cd-roms, trade show and retail kiosks and multimedia presentation, as well as host.
Thanks for getting back to me. Wow that was fast. I got it to work. I was rushing because of my deadline (you know how some clients are changes at the last min. after everything is done) and I used the get URL instead of fscommand. Thanks again. It's nice to know that you guys are around during crunch time.
Michael Sienkiewicz - PresentationRom