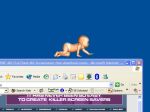 Desktop Baby

Here's the baby to bring home.... to your computer. Watch this baby crawl around the windows and taskbar of your desktop, while you work. The realistic animation was created with Poser and then put together using Jugglor v2's transparency feature.

Well done to the guys at GlassPage for a very original idea.

Thanks guys for letting us show it off.

p.s. Watch out for the falling baby

Go to web page | Download




Eldridge Technologies Limited (ETLtd)
Eldridge Technologies Limited (ETLtd) is primarily a 'think – tank' company whose aim is to find simple solutions to contemporary 'problems' utilising the latest digital technology. As an example ETLtd have recently finished the first products for the LifeSaver and De-Sign brands (Digital Emergency Sign). LifeSaver "Fire" (V2.0) was officially released in July 03 and has caused immense interest from the UK Fire Authorities, Governmental Departments and Microsoft to name but a few.
Arvato Systems UK & Ireland, Ltd.
This is the second time that you have provided prompt response to my needs! I am very please with your operation and your products. To my experience, this quality of response and support is beyond that presently offered on the internet. I will be recommending your product to our associates and clients, and do so without hesitation. I am pleasantly surprised.
Michael Walden - MacroLabs, Inc. (East Coast)